Sustainability Magazine
Since the end of 2018, ProSiebenSat.1 has been supporting the ReDI School initiative in Munich as a cooperation partner, which has not only paved numerous students' ways into the professional world, but also counted a whopping 500 students until june 2019. Patrick Keller, Vice President Engineering at ProSiebenSat.1 Tech Solutions, highly advocates for the ReDI school students – not only in terms of his social responsibility as a manager but also in order to give young people with very different backgrounds both a good education and perspective.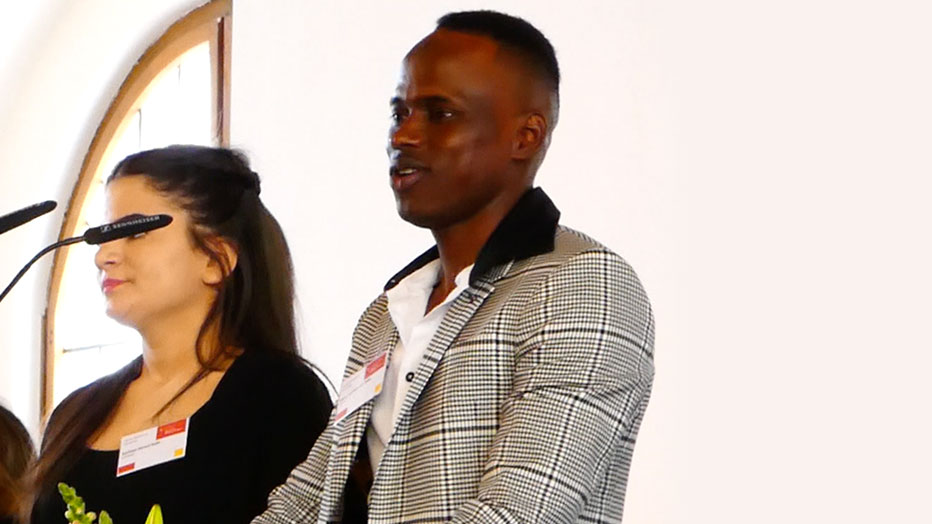 ReDI School student Mohamed Diallo will be starting his training as an IT specialist in application development at ProSiebenSat.1 in September 2019.
He just turned 17 when he decided to leave his home country, his accustomed environment as well as his mother, siblings, and friends behind. Numerous reasons rendered it impossible for him to stay: poverty, human rights violations, torture, and political conflicts between ethnic groups. Mohamed Diallo comes from the West African country Guinea and belongs to the Fula (also called Fulbe), which forms the majority of the people with a population share of over 40 percent, but is politically, socially and economically marginalized. In addition to Mohamed, 13,000 other fellow countrymen fled towards the north.
Within just six months, his journey took him from Guinea to Mali and then to Algeria, on to neighboring Libya and finally via Italy to Germany. Just before New Year's Eve 2016 – and almost 5,000 km away from his family – he found himself a new home in Munich, where he first completed a six-month language course, never losing sight of his goal of obtaining a qualification and successfully starting his professional life.
Mohamed Diallo
ReDI School student
My motto is: if you want to do something, just do it – anything is possible.
Initiator Patrick Keller

Patrick Keller, Vice President Engineering at ProSiebenSat.1 Tech Solutions, plays a key role internally in driving the cooperation with the ReDI School forward.

Diversity Jam event

The Diversity Jam, which took place on International Women's Day 2019 under the slogan "Diversity meets Digital," was the result of a cooperation between SHIFTSCHOOL and the ReDI School.

ReDI School group photo

The ReDI School brings together people of all nationalities and not only organizes tech courses for IT-savvy refugees and migrants, but also – most importantly – aids and improves cohesion within our society.
An important part of his new life in Germany? The ReDI School is pronounced like the English word "ready" and stands for "readiness" for digital integration. Knowing about his high affinity for everything IT related, it was his language teacher who drew his attention to the offered courses – enthusiastic and full of anticipation, Mohamed started his ReDI career shortly afterwards: "I was so lucky," Mohamed recalls, reminiscing about his first weeks as a ReDI student. He has already spent two semesters attending classes – including courses on the programming language Python and data science. Another benefit of the weekly meetings: Mohamed quickly found his feet in Munich and was able to establish a network of valuable contacts in the IT industry. In addition to tech, he has another great passion: theater. Over the past few months, he has already been involved in various productions at the Bavarian State Opera, showing off his acting skills and inspiring the audience. "I love meeting a wide variety of personalities and cultures, being surrounded by nice people, and trying out new things, both in the theater and at the ReDI School," says the 19-year-old. "My motto is: if you want to do something, just do it – anything is possible."
After studying at the ReDI School and having completed various internships, Mohamed is about to embark on a new phase of his life in September 2019: At ProSiebenSat.1 Media SE, he will be starting training as an IT specialist in application development. During a careers event at the ReDI School, Mohamed met Patrick Keller, Vice President Engineering at ProSiebenSat.1 Tech Solutions. ProSiebenSat.1 has been a cooperation partner of the initiative since the end of 2018, supporting the school financially, with know-how and expertise: employees provide IT courses and act as mentors.
Patrick Keller plays a major role internally in driving the cooperation forward: "Companies and managers have a certain social responsibility, particularly to help if someone is in a worse situation than we are in." Providing young people with good education is a matter close to his heart. "The ReDI School is the perfect partner because it provides initial assistance, gives their students a direction, and at the same time encourages individual initiative." Mohamed is already really looking forward to his time at ProSiebenSat.1, his future colleagues, and the new challenges that come with it. "I'll give my very best," he says, with confidence and a big grin.
ReDI School of Digital Integration
The ReDI School has been existing for almost four years in Berlin and in Munich for about two years. So far, the school counted a total of 1,500 students in Munich and Berlin. Founder Anne Kjær Riechert's idea is an obvious one: The non-profit initiative organizes free tech courses for IT-savvy refugees, migrants and Germans without access to digital education – for those who already have proven programming experience and for motivated newcomers. To make sure that participants are optimally prepared for their future career, the ReDI School offers workshops, tech talks, and company and conference visits. It also organizes hackathons and career counseling. Networking events and internships in the tech field help graduates to transition into the world of work. With experienced mentors and industry experts on hand, participants not only get to discuss specialist topics and learn, they are also able to establish a network.
Further information can be found at https://www.redi-school.org/